Meet Mindset's Summer 2021 Interns
This summer Mindset is proud to have an outstanding class of interns to support the firm's bipartisan public policy work.  This year's interns have a wide array of policy interests but a shared goal of making an impact on public policy.  You can learn more about their backgrounds below.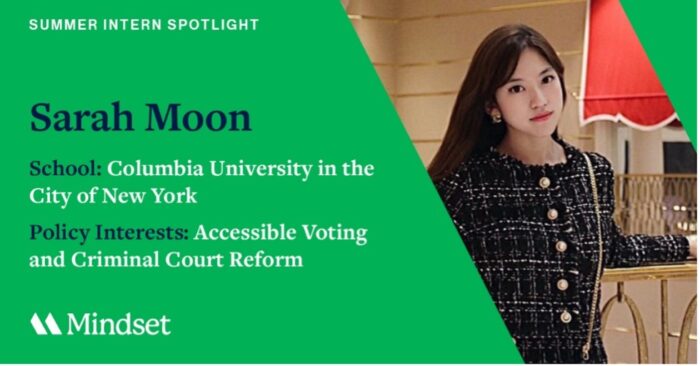 Sarah is a Political Science major at Columbia University and is interested in working on issues including accessible voting and criminal justice reform.  She appreciates the "exposure to a diverse array of issue areas" during her internship.  Sarah also played the clarinet for the New York City Marching Band.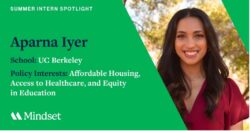 Aparna is studying at the University of California, Berkeley and is interested in issues like affordable housing, access to healthcare, and equity in education.  Aparna plans on pursuing a career in law or public policy to help underserved communities.  She's also a Black Belt in Taekwondo!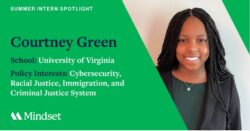 Courtney attends the University of Virginia and says that Mindset "affords me the experience of delving deeper into my passion for political science and public policy while deciphering which specific sectors of a policy career entice me."  Courtney hopes to pursue a career in public service and is interested in issues including cybersecurity, racial justice, and immigration.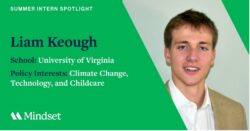 Liam is a history and economics major at the University of Virginia and interested in climate change, technology, and childcare policy.  He hopes to pursue a career as a policy advisor or lawyer.  Liam enjoys drawing and painting album covers in his free time.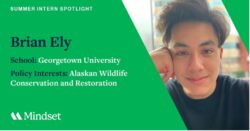 Brian attends Georgetown University and plans on pursuing a career in corporate law.  He is interested in Alaskan wildlife conservation and restoration policy and appreciates Mindset's subject matter diversity and being able to work with a dynamic group of professionals.  Brian is also a published non-fiction author.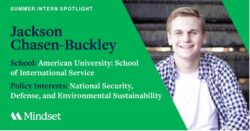 Jackson attends American University and is interested in a career in international policy consulting.  When speaking of his internship, Jackson said, "I love how my position at Mindset allows me to view the inner workings on Capitol Hill.  The Mindset team comes from a variety of backgrounds, and it's wonderful to see everyone's perspectives come together."