2022 Policy Outlook.
2022 is poised to be an important year as President Biden and Congressional Democrats look to score important victories before the midterm election. Here are a few key insights from the Mindset team on the policy outlook for this year: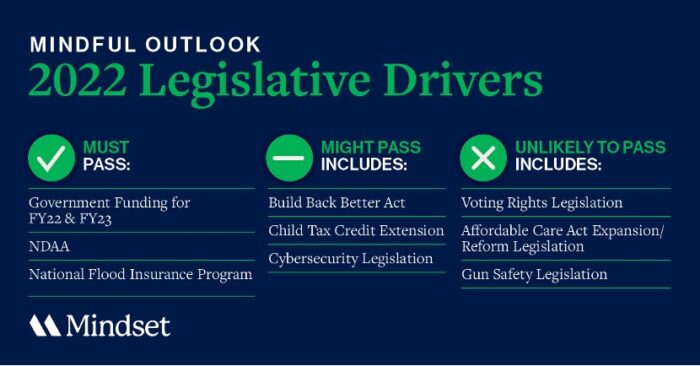 Heading into the new year, we expect Democrats to pick up where they left off as they attempt to salvage Build Back Better (BBB) Act talks. Senator Manchin (D-WV) will continue to be in the driver's seat as Democratic leadership tries to negotiate a package that can appease the senator's cost and inflation concerns. Complicating efforts is the potential for a surge in COVID-19 cases, which will lead to worsening inflation data, and rising geopolitical tensions—all of which have been cited by Senator Manchin as higher priorities.
Should progress stall on the BBB Act heading into late winter, we anticipate that the Biden Administration could pivot its focus to administrative action, in lieu of legislation, on priorities such as climate change, healthcare, affordable housing, and issues related to racial justice. Additionally, the Administration will be looking to find ways to continue to relieve supply chain issues to address inflation concerns. We look to President Biden's State of the Union, likely in early March, for a potential shift in strategy away from the BBB Act.
Outside of the BBB Act, we expect legislative activity on significant legislation is likely to slow by the second half of 2022 as lawmakers turn their attention to the midterm elections. Among "must-pass" items, Congress will need to address the remainder of FY22 government funding by February 18, as well as FY23 funding by September 30, leaving limited opportunities for other efforts beyond a steady drumbeat of Senate confirmation activity.
With a shift in focus to the midterm elections, we are likely to see renewed Democratic concerns over mail-in voting, foreign interference, and voter suppression, as Republicans are also likely to seek to force budget/spending votes tied to inflation. However, we don't expect meaningful legislative action around these issues given partisan divides.
On the campaign trail, we expect debate around hot-button issues, such as inflation, COVID vaccine mandates, voting rights, reproductive rights, critical race theory, and parental rights/school boards, with Democrats likely to focus their messaging around legislative accomplishments like the American Rescue Plan and Bipartisan Infrastructure Deal.
And don't forget the wildcards. There is always the threat of outside events crowding out the Democrats' preferred domestic agenda. Mindset experts see five key areas that could change the political landscape and the outcomes in Congress this year.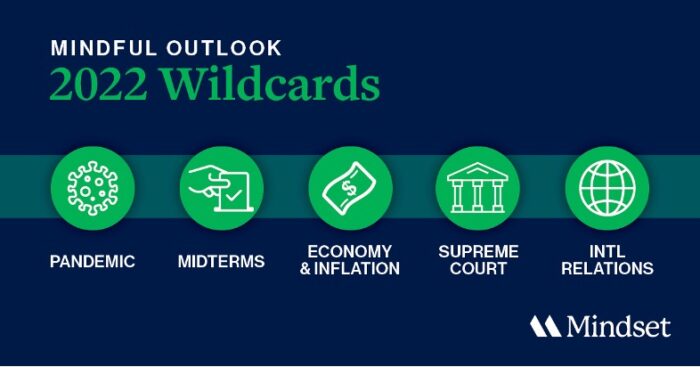 For a more in-depth analysis of Mindset's five key verticals, and to see how we can help you meet your legislative goals this year, please reach out to the Mindset team.
---
Mindful is a publication from Mindset, a bipartisan public policy firm that blends advice, analysis, and advocacy to address the challenges and opportunities our partners encounter in Washington. Interested in working with Mindset? Get in touch.